​Best Lectin-Free Tomato Sauce 202​3
Sometimes, you just really want to eat tomato sauce, but you don't want to deal with all the lectins.
Thankfully, there's ways to reduce or potentially completely remove lectins from tomato sauce.
Here's two lectin-free tomato sauces worth checking out.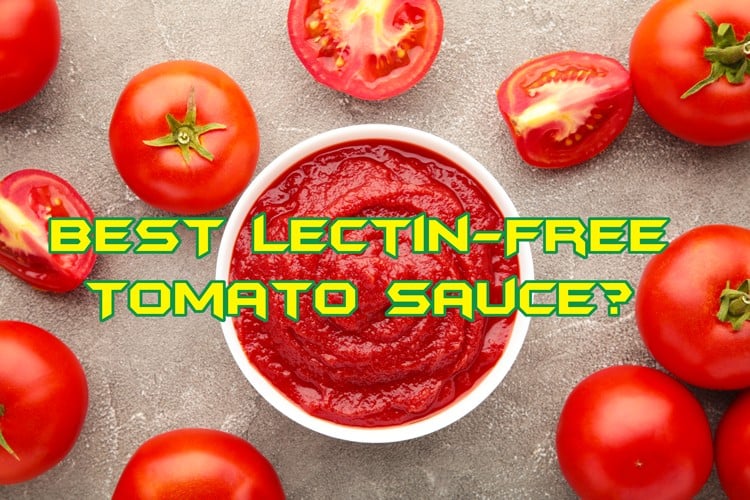 #1) ​POMI Tomato Sauce
POMI offers ​several different options for buying tomatoes. There is the tomato sauce, which has just ​one ingredient ​- you guessed it – tomatoes​​​.
Then there also is the marinara sauce. The marinara sauce contains tomatoes, onion, olive oil, sugar, garlic, salt, basil, and oregano.
You also have the option of buying pizza tomato sauce, strained tomatoes, and chopped tomatoes.
Personally, I think it's pretty awesome that they offer many options and especially that they offer a tomato sauce with only one ingredient.
This sauce brand was also mentioned by Larry Olmsted in his book, REAL FOOD, FAKE FOOD.
Additionally, the brand says their strained tomatoes have "lectin-laced parts of the tomato strained out" and that their strained tomatoes and tomato sauce are lectin-free.
​The strained tomatoes version, which is like a sauce, contains nothing other than tomatoes, so you'll have to add your own herbs, oil, spices, etc.
Upsides: ​lectin-free, seeds and skins removed, can be gotten organic, made from 100% Italian tomatoes, no preservatives or artificial flavors
Downsides: not every option is available organic
​#2) Testa Tomato Sauce
​Testa's Pasta Sauce is another option for getting lectin-free sauce. Their sauce is said to be made with local tomatoes and removes the skin and seeds.
It contains plum tomatoes, crushed tomatoes, pure extra virgin olive oil, white wine, onions, garlic, basil, sea salt, and parsley.
It does not appear that the sauce is organic.
​​Upsides: ​lectin-free, seeds and skins removed, made from local tomatoes
​Downsides:​ not organic​​​​​​
Make Your Own
​Making your own lectin-free tomato sauce involves:
1) De-skinning ​the tomatoes
2) De-seeding ​the tomatoes
3) Cooking the tomatoes, ideally in a pressure cooker
Some people prefer to buy lectin-free tomato sauce instead, so they can bypass all the hard work of making it themselves.
Summary
​Tomatoes are not considered to be a low lectin fruit, and therefore some people will opt to look for lectin-free tomato sauce if they still want to eat tomatoes.
Thankfully, there are numerous options, which we've listed above. Know of one we didn't mention? Send us a message and let us know!
Hopefully that was helpful for you.